Because of their aesthetic and gleaming appearance, silk curtains define luxury, wealth, and royalty. If you want the modish look of your interior, you must opt for these curtains that can effortlessly spruce up the outlook of any place within the blink of an eye. Besides appearance, silk is renowned for its exceptional pros and practical attributes. These curtains can give a luxurious feel to any place based on their styles, colors, patterns, and stunning layouts. Read more about How Silk Curtains Give Your Home a Touch of Charm?
Silk is a soft fabric material and is quite similar to wool; it gives an iridescent outlook when it is reflected by light. Silk curtains are an effective adorning element with incredible softness yet are of premium quality. If you want to go for an innovative treatment to adorn your interiors, then picking silk fiber curtains among all the varieties of curtains is an ideal choice.
Let's review the authentic reasons why you must buy silk curtains to give your home a touch of charm.
Noticeable Grounds To Choose Silk Curtains For Your Home
There are uncountable reasons to choose silk curtains to give your home a touch of elegance. You can explore the various features of these curtains in-depth after buying them. However, some of the important points are here for your help.
While comparing silk curtains with other substitute curtain types, they give a gleaming appearance.
Silk is a protein fiber that offers a soft and plush feel to your windows.
Having silk curtains in your rooms can boost the visual appeal.
These curtains can add a touch of luxury and last for a long time.
When you buy it in neutral or slid shades, silk can improve the ambiance of your interior.
Silk has always been in trend because of its astonishing charm and sleek designs.
Also Read:  Tips to Choose Faux Silk Curtains for Your Home
The Ways Silk Curtains Can Enhance the Appearance of Your Home
Silk curtains are, with no negotiation, a perfect solution to make your place look luxurious. However, here we'll discuss the aspects of How Silk Curtains Give Your Home a Touch of Charm that collectively help to give your interior a striking look.
1. Lush & Beautiful Appearance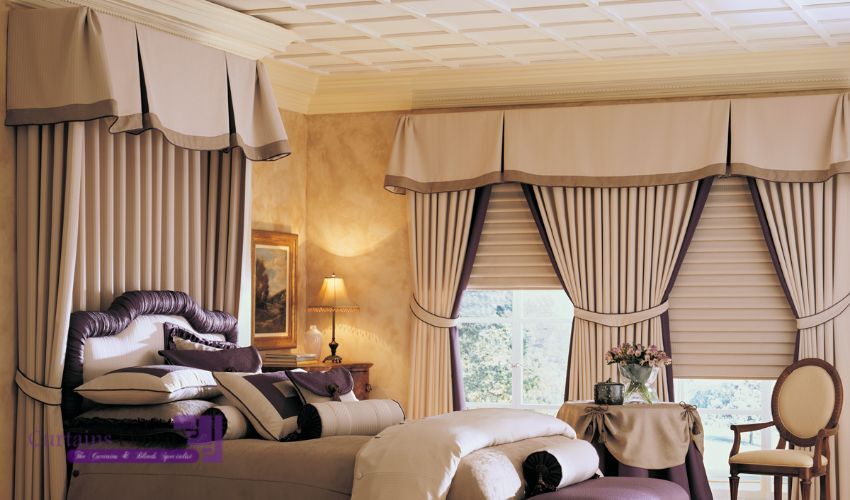 No fabric choice stands out when you choose the silk fabric curtain. Silk curtains are stunning to hang in your interior spaces and offer optimal durability. These curtains have certain imperfections because they are made from natural materials. Your home deserves to be a place that can cast a spell on the minds of visitors.
With their eye-catching appearance, they are a forever trend as people love to buy curtains made from silk to transform their dull places into jaw-dropping interiors.
2. Adds a Touch Of Softness
Silk curtains give your home a touch of charm and softness. Besides the softness of fiber, curtains made from silk offer a gentle feel to the decor of your place. These curtains are light or heavy based on the weaving composition and never go out of fashion. The softness depends not only on the material or appearance of these curtains, but the choice of colors can affect the softness factors. You must go with solid tones to have a subtle look in the room.
3. Offers Strength & Versatility To Window Coverings
Silk curtains are the preferred choice among other manufacturing materials, as they offer more strength and longevity. The individual fibres of silk curtains are firmly woven together, and that's the reason they are the highest quality fabrics.
You can browse different curtains by their color, material, texture, pattern, and style. It solves the problem of getting the product that suits your preferences and needs.
4. Creates Aesthetic Environment
You can adorn distinct zones of your home, including the dining room, bedroom, living room, library, or study room, with silk curtains. It can create a soothing yet aesthetic atmosphere regardless of any particular place.
To give an extraordinary and beautiful view of your room, you can buy sheer silk curtains that provide a flawlessly ravishing scenario to adore.
5. Provides Sophistication To Your Place
No matter where you want to hang these curtains, they are an absolute option to add a sophisticated touch to any area. To get an intimate atmosphere in your bedroom, you can install these curtains in white with an extra length so that they can touch or puddle on the floor.
To achieve a more contemporary look, you can add extra layers of silk sheer curtains on a rod panel. It is the perfect addition to impart an environment of calmness and luxury at the same time.
6. Gives Ultimate Privacy & Blocks Light
Silk curtains can offer the maximum level of privacy depending on the use. If you want to have bright sunlight in your place, you can slide them to the side and pull them to the center whenever you want to block sunlight or need privacy based on your personal preferences or needs of the hour.
7. Anti-wrinkle Window Covers
These curtains do not easily succumb to wrinkles like other fabrics, hence providing a flawless surface. These curtains don't get crushed or rumpled and sustain their sleek stance even if you stack up the chairs or sofa set against them or untie them back from the windows. However, you may need to iron them after dry cleaning or washing.
Also Read:   How To Clean Silk Curtains?
Wrap-Up Note!
Silk curtains are an excellent treatment for upgrading your existing decor or renovating your rooms for the first time. With silk curtains, you can achieve a level of perfection that no other curtain fabric can offer. With their royal visuals, they can easily get along with the decor of your interiors. If you are looking for the answer to the query of why and how silk curtains give your home a touch of charm, then this guide from start to finish would be helpful for you.