To cover your home windows and enhance them in an attractive way, the purchase of the right set of curtains is essential. Curtains are the timeless interior decor element that offers instant style infusion to a space while integrating functionality. You can dress up the bare windows of any room with curtains that work for your sense of style and aesthetic taste. However, with the huge variety of curtains available in the marketplace, it might be daunting to select one for an instant home upgrade.
In the Curtains-dubai store, you will find a fantastic range of right curtain fabrics for the ideal window dressing. With tailored-to-perfection fabrics, an array of styles, and plenty of layout choices, you may get overwhelmed by the choices available. Therefore, we are going to familiarize you with the best tips on the selection of the right curtain fabric with its drawbacks and features.
Ultimate Helpful Tips On The Selection Of The Right Curtain Fabric
We have rounded up all the factors that you must keep in mind while selecting the perfect color and style of the curtain fabric.
Quality And Opacity
When choosing window dressing treatment for your home, it's a good idea to consider the functional and styling purpose during fabric selection. After measuring the window dimensions accurately, go to market and toss on the best quality fabric that will last for prolonged time spans.
Choose while checking on the fabric weave and it is always important to base your selection on the functional features. Whether for filtering light, privacy, protection, or energy efficiency, you have to select between transparent or opaque fabrics.
Appearance And Design
Curtains' appearance makes a major impact on the overall vibe of a space, for instance, the choice of subtle or striking looks. Depending on the kind of look you want to give to your rooms you can decide on patterned or plain curtains in cool or warm colors.
For the excellent blend of functionality and style, make sure to buy the fabric that will either create harmony or feature contrasting looks as per decor themes. Curtain length also adds to the style, so, decide on the sill, below-sill, floor length, or floating style curtains.
Density And Weight
The right density of the fabric becomes the main concern when it comes to the passage or blockage of the light coming into your space. The density and opacity of the fabric will decide the extent of privacy in your space.
The heavy or lightweight curtain fabric is the major contributor to having maximum light or utmost privacy in your space. Heavy-weight curtains like velvet and lightweight like cotton and sheer can be selected considering the weight of the hardware accordingly.
Costs & Durability
Costs are even the concern of people who are not on a budget to purchase any type of curtain. You can pick from modern and traditional when you are on a budget, however, purchasing from shops offering discounts and sale offers is the best option to go for.
Ask for the expected lifetime of the fabric of the curtains you have picked from the retailer. Consider the daily wear and tear and surrounding conditions before opting for a fabric.
Cleaning And Maintenance
Not every curtain fabric can be machine washable and you have to hand wash, dry clean, or spot-clean some delicate curtains. When buying machine washable curtains, ask the manufacturer about the care and maintenance instructions.
Avoid washing multi-colored curtains in the same batch and don't hang the fade-prone fabrics in direct sunlight to retain their shine and appearance for a long time.
Best Curtain Fabric Options For Your Home
Discover the best curtain fabric to cover your windows contemporarily and enjoy multiple plus points.
Cotton
Cotton is the most popular yet common choice for curtains. Such cotton curtains are made of a blend of polyester and cotton which makes them lightweight fabric and suitable for any type of window.
Plus points:
Cotton curtains are natural insulators
Versatile design and pattern options
A great choice for dining & living spaces
Best at light-filtering
Silk
Silk is the most sumptuous and luxurious curtain fabric choice, made from natural materials. These curtains are heavier than cotton and sheer curtains.
Plus points:
Block the outside noise and sunlight
Regulate the room temperature
Ideal for formal home decor
Have a soft and plush texture
Linen
Linen fabric is woven from the flax plant and is a lightweight fabric that is extremely smooth and soft to the touch. It gives a fine look and soft appearance to a place.
Plus points:
It offers excellent privacy
Can block light effectively
Resistant to UV rays
Regulate the room temperature well
Lace
Lace fabric comes with sheer counterparts which are manufactured from cotton and polyester yarn. This fabric is best suited for dining and living spaces.
Plus points:
Great for light filtering
Can be paired with other curtains
Airy, lightweight, and easy to handle
Perfect for minimal or traditional decor
Velvet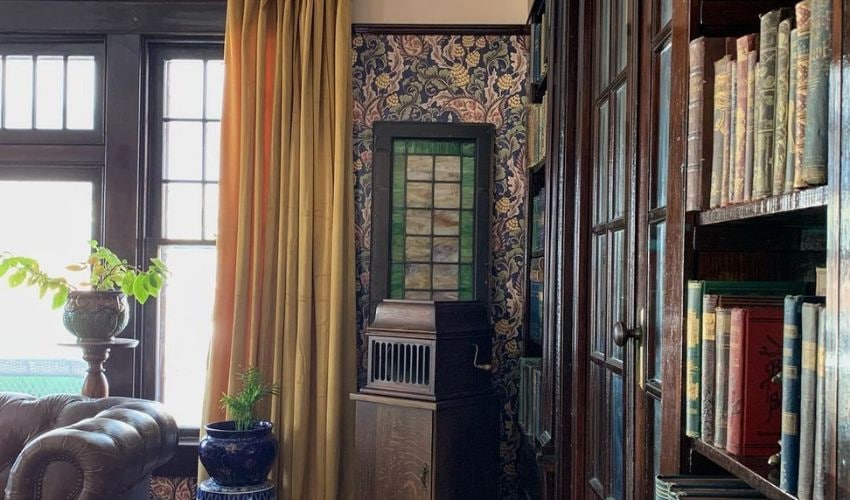 Velvet fabric for curtains is crafted from multiple types of yarn including linen, wool, cotton, and synthetic fibers. This is an upscale fabric that is ideal for formal places.
Plus points:
Offer a great level of privacy
Restrict the outside light
Heavyweight & ideal for room insulation
Block exterior noise to a great extent
To Sum Up
Settling for one curtain fabric is surely daunting when there are extensive choices available for the curtain fabrics. To pick the best fabric for a stunning transformation of your spaces, you can select from various lightweight options like sheer, cotton, lace, and linen fabrics. While for heavier drapes, choose from velvet, silk, and blackouts. The integral factors to consider for the selection of the best curtain fabric include thinking about the prices, durability, quality, maintenance needs, and installation.