Living Room Curtain Ideas – Curtains are the most adopted type of window treatment. Almost all homeowners select curtains for applying in front of the windows of their rooms. There is an unlimited variety of curtains available that are used for different purposes.
Curtains can be applied at various places in your home for different purposes. As for as hanging the living room curtain is concerned, the foremost reason is to get privacy. Curtains for the living room can help you in getting privacy when you need them.
Curtains are also helpful for blocking the external light coming to the living room for taking a restful sleep during the daytime. Most of the people are confused about what type of curtains would be best for their living room and might make the wrong decisions.
If you are also trying to get guidance regarding this problem, then you are in the right place. Today we are here to give you the best curtain ideas that will help you tackle this problem.
Top 10 Living Room Curtain Ideas
Choosing curtains can make or break the look of your living room. In this article, we will discuss the top 10 Living Room Curtain Ideas.
We will give you all the information about each type of living room curtains design so that you can easily choose the best curtains for the living room that gives a modern look to your home's interior. Let's look at these curtain styles for living rooms:
1. Blend Curtains With The Color of Walls and Furniture
Without curtains, no living area will be completed. Curtains complete the living room. Choose the curtains colors for the living room that perfectly match the color of your room walls and furniture to give a modern/stylish touch.
Always try to get the outstanding and luxurious fabric for hanging curtains in a living room. By getting the perfect color of curtains, you can make a fantastic, cohesive, and modern look for your living room.
For Example, if your room has navy blue furniture and walls, then thick grey drapes would be the best choice for your living room's interior.
2. Apply Pelmet For Giving a Modern Touch
A pelmet is used for adding decor to your curtain. It is an upholstered box placed above the window frame to cover the curtain rod.
It is used to frame the rod or fixtures and also add a perfect structure that makes a significant contrast with the color of a beautiful living room curtain. You can use the pelmet technique with light-colored modern living room curtains to create a modern and amazing style with our curtains.
3. Simple Pinch Pleat Design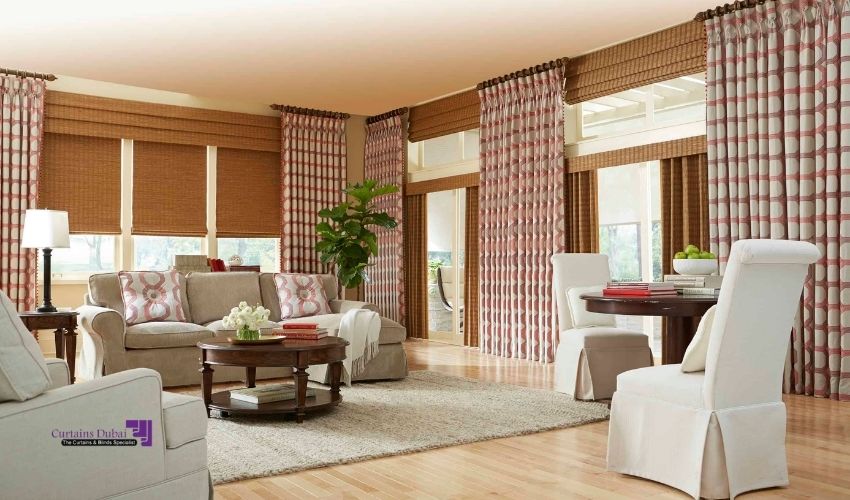 Pinch pleat design is achieved by gathering two or more pinch pleats and tying them to create a more decorative heading of the curtains. This idea can be applied to all types of fabric, but keep in mind the more pleats you want, then the more fabric will be needed for this.
This design of curtain is one of the traditional ideas that work well with both plain and pattern fabrics. Use this idea for giving a traditional and luxurious look to the interior of your living room.
4. Install Extra-long Curtains
If you want to give a luxurious look to your living room by using curtains. Then apply this method by hanging the extra long curtains that bunch up at the bottom. When the curtains touch the floor, they will create a beautiful effect and add a modern touch to the interior.
5. Select Sheer Curtains For Living Room
Pick up the sheer curtains to create a soft and aesthetic look for your living room. These curtains will make a room feel light/airy, and also give enough privacy we need during the daytime.
Most interior designers recommend installing sheer curtains for getting unique and amazing results that take your home's interior to the next level of modernity. You can apply them as farmhouse living room curtains to get an amazing external view.
6. Add a Layered Texture
You can add an amazing visual effect to your living room by pairing the two different textures and colors together to create pattern curtains for the living room.
Like you can use blinds with the curtains to create an amazing look. For example, a wicker blind makes an amazing contrast with the soft white curtains. This amazing idea will add depth to the smaller space and make it look larger than its actual size.
7. Apply 3D Printed Curtains
The 3D print curtains give a modern touch when installed in the room. This design is achieved by two shades of the same color, like yellow, blue, grey, etc. Unique patterns can be available for creating this design.
For example, a curtain is in two shades of yellow with a big 3D yellow rose at the top side and a few other small roses around it. This will create a petal print in between. When someone looks at this, it will give the feeling of seeing the actual flower because of its 3D pattern. Apply this room curtains idea if you like to give a 3D environment to your home's interior.
8. Apply Swag Curtains on Small Windows
Swag is a style of curtain that can apply for giving a modern look at your room's interior. You can apply it by applying a single layer of curtains or by adding it as a 2nd layer on the plain curtains inside. Choose this style if you want a striking and perfect balance to the visualization of your living room's interior.
9. Hang Striped Curtains From Ceiling To Floor
If your living room has long walls, then use wide and long striped curtains in different color combinations. Try to choose neutral colors and hang them high to make an amazing and fantastic look. You can also hang the long striped curtains on the small windows to give a larger look to the windows of your living room.
10. Select Unique Floral Designs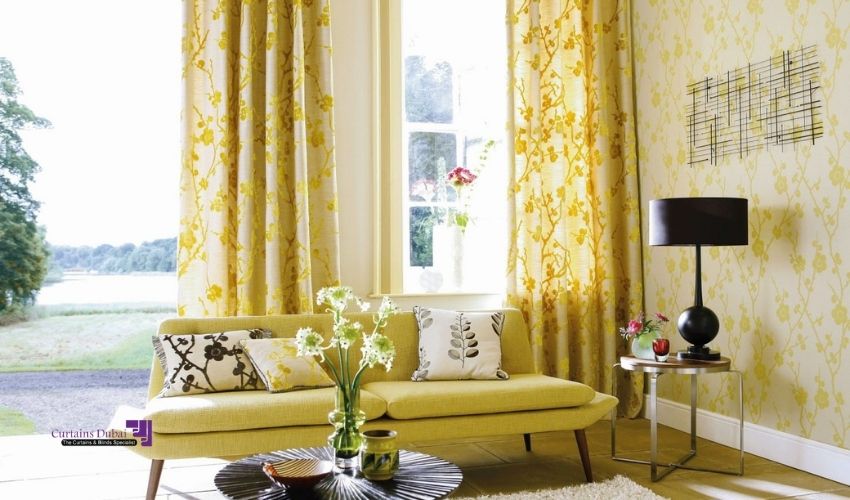 The cozy and classic floral designs never go out of date and can be matched with every living room's decor. They create a fantastic combination of natural wood furniture. When they are paired with a variety of patterns and textures, they will touch the highest level of modernity.
Use these curtains to create such amazing styles that can attract anyone who sees it.
Conclusion
This is all about the top 10 Living Room Curtain Ideas, which can help you in applying stylish drapery to your room's interior. I hope this article will be helpful for you in making the right decision about selecting and hanging the perfect curtains in the living room.
If you didn't understand something or have any queries regarding this, you can ask by posting a comment.